LRU Rego Day and Gradings Night
LADIES AND GENTLEMEN OF LINDFIELD RUGBY CLUB…
This Saturday, 31st of March 2012, Lindfield Rugby Club will be making history, hosting it's first ever LRU PROPTATHLON!!!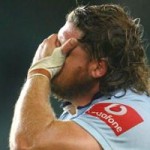 As part of the 2012 Rego Day, kicking off at Old Soldiers Memorial Oval, all LRU props are invited to join in the inaugral competition comprising of all skills essential to be a champion front rower… strength, speed, drop goals, and of course sculling. With cash and a prized pewter mug up for grabs it's sure to make for some amusing entertainment…
The day will also consist of some internal trial matches as we strive to confirm final teams for round one vs Balmain. It's also the last chance for any 2012 players who haven't yet paid their subs to do so in order to redeem the early bird special and save $40!
As the sun goes down at Tryon Rd, we'll be kicking on to club sponsors Cabana Bar to celebrate Gradings Night and announce all 2012 teams, everyone and anyone is welcome.
There'll be plenty of action for both player and spectator this Saturday so spread the good word of the LRU to one and to all and make your way down to Soldiers Memorial Oval, Tryon Rd, Lindfield this Saturday…