April 12
URGENT MESSAGE: Lindfield Oval Closed, games now at UNSW
Published April 12, 2014

Lindfield Oval is closed. Game is now at UNSW, Kensington home ground.

Address: David Phillips Memorial Fields, Banks Ave & Gwea Ave, Daceyville NSW 2032

Oval set up is here: http://www.facilities.unsw.edu.au/sites/all/files/David%20Phillips%20Sports%20Field1.pdf

Please proceed to the main North oval with the grandstand.

Games are still as scheduled.

Please contact your coaches for more details should you have any queries.
April 8
Training Tonight
Published April 8, 2014

Soldiers,

Bring your running shoes tonight. There is also a free BBQ for those attending from 8:30pm.

See ya there.
April 4
Rd1 v Hunters Hill @Boronia Park
Published April 4, 2014

Soldiers and Supporters,

The big day is upon us, Round 1 for 2014 v Hunters Hill. The ground is easy to find…here.

Lets make it a big start to the year and show the new-comers to the division what's its all about. Let's get there and support all the teams!!

Kick-off times
4th Grade…..10:45am
3rd Grade…..11:40am
Colts………12:45pm
2nd Grade…..2:00pm
1st Grade…..3:15pm

See y'all there.
March 28
Epping Trial
Published March 28, 2014

Soldiers,

Tomorrow (March 29th) is our trial weekend v Epping. All games will take part at Epping Boys High. Regardless of what team you are playing in please everyone arrive by 11am and we will run through the teams for the day.

Thanks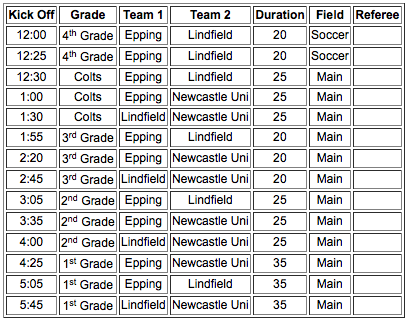 March 27
Training Tonight
Published March 27, 2014

Soldiers,

Training tonight has been moved to Willoughby Leisure Centre netball courts at 7pm for 1st, 2nds and colts. 3rd and 4th grade have the night off.

Any issues or concerns please contact your respective coaches.
March 21
Internal Trial – Sat March 22
Published March 21, 2014

Soldiers,

Tomorrow's trials will be held at Koola Park, Koola Ave East Killara Map

11am – team selections announcements + warmup
12noon – Games begin!

Possibles v Probables
Colts v 3rd/4ths
Mix-match periods

Be there!!
March 14
Canberra Trial
Published March 14, 2014

Soldiers,

Below is the starting grade side for the trial this weekend. There are certain players and combinations we want to look at, so players will be moved around position-wise throughout the game. But everyone will get plenty of game time, so get excited!!

Kick-off is at 1:30pm with 3 x 25min periods.

1. Will Lewis
2. Sam Morrison
3. Tim Dobson
4. Daniel Hyde
5. Connor Hyde
6. Aidan Rooney
7. Danny Kwon
8. Chris Morrow
9. Dan Grieves
10. Daniel Millar
11. Luke Sussmann
12. Andrew McWhannell (Macca)
13. Seamus Jones
14. Cameron Smith
15. James Hyde

Looking forward to great weekend of footy!
March 13
Last Training Session Before Canberra Trip
Published March 13, 2014

Training is ON tonight!

7pm kick-off – Soldiers Memorial Oval #2, Tryon Rd, Lindfield.

Last training before first trial games this weekend, bring boots, mouthguard, and your mates…

OLD SOLDIER!
February 11
Pre season training has now moved to Tryon #2 (lower oval) at 6.30pm
Published February 11, 2014
February 9
LRU – Crescent Head 7′s 2014 Bowl Champs
Published February 9, 2014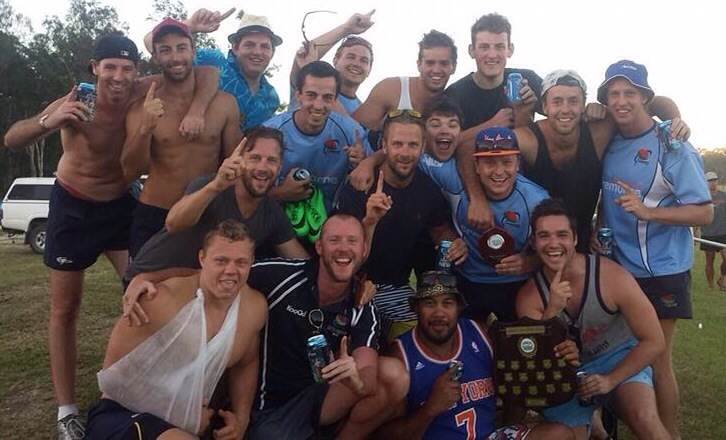 Congratulations to our Crescent Head sevens team who won the Bowl Division prize yesterday at the tournament. Great start to our 95th season.
Thanks to the supporters who made the trip with the boys as well, good job!